IPCE Event: Making Elections More Deliberative through the Citizens' Initiative Review
November 21, 2014 @ 9:30 am

-

10:45 am

CST

Free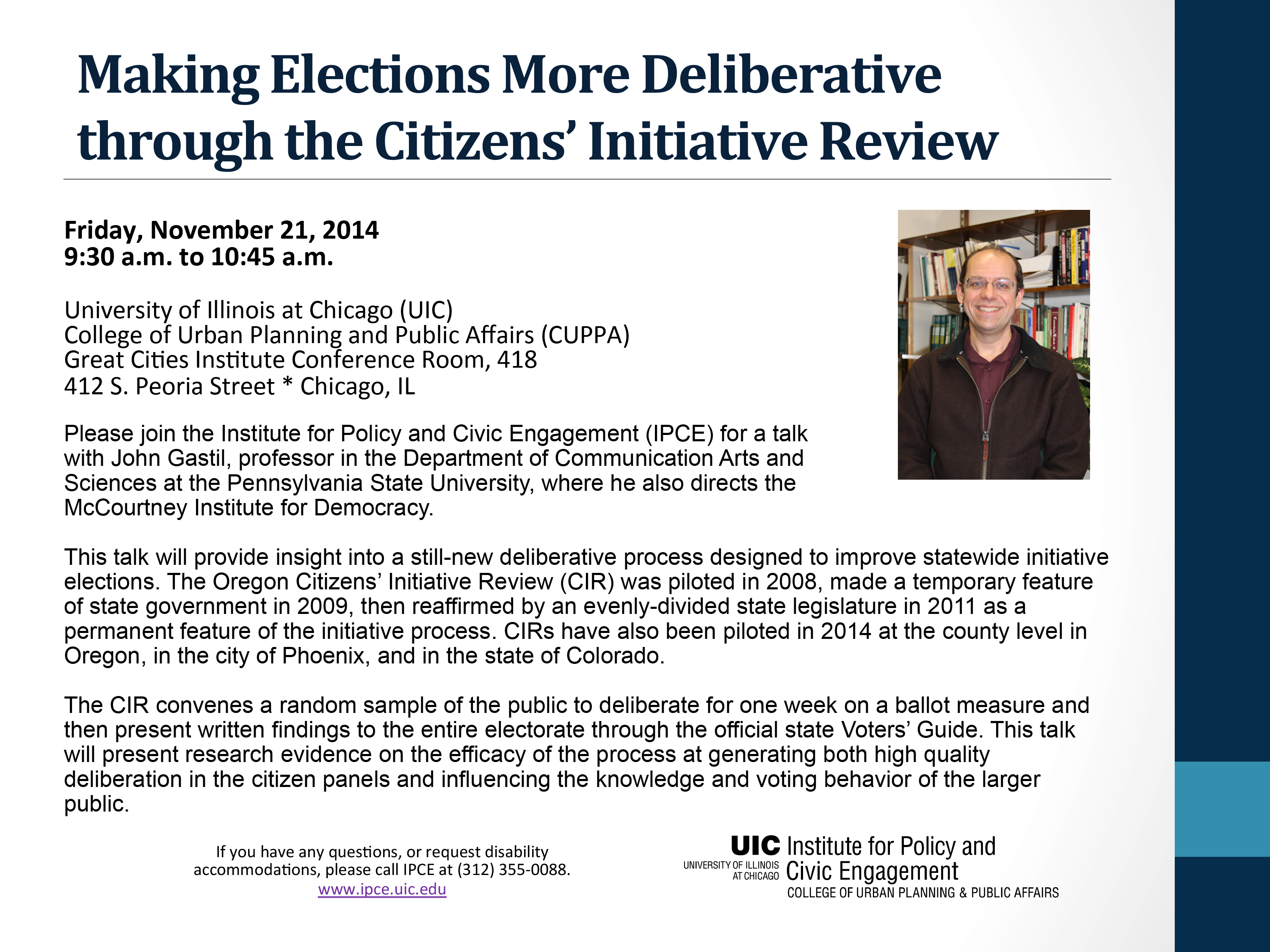 Friday, November 21, 2014
9:30 a.m. to 10:45 a.m.
University of Illinois at Chicago (UIC)
College of Urban Planning and Public Affairs (CUPPA)
Great Cities Institute Conference Room, 418
412 S. Peoria Street * Chicago, IL
Please join the Institute for Policy and Civic Engagement (IPCE) for a talk with John Gastil, professor in the Department of Communication Arts and Sciences at the Pennsylvania State University, where he also directs the McCourtney Institute for Democracy.
This talk will provide insight into a still-new deliberative process designed to improve statewide initiative elections. The Oregon Citizens' Initiative Review (CIR) was piloted in 2008, made a temporary feature of state government in 2009, then reaffirmed by an evenly-divided state legislature in 2011 as a permanent feature of the initiative process. CIRs have also been piloted in 2014 at the county level in Oregon, in the city of Phoenix, and in the state of Colorado.
The CIR convenes a random sample of the public to deliberate for one week on a ballot measure and then present written findings to the entire electorate through the official state Voters' Guide. This talk will present research evidence on the efficacy of the process at generating both high quality deliberation in the citizen panels and influencing the knowledge and voting behavior of the larger public.
If you have any questions, or request disability accommodations, please call IPCE at (312) 355-0088. www.ipce.uic.edu