Natives in Chicago
November 14, 2018 @ 3:00 pm

-

5:00 pm

Free with RSVP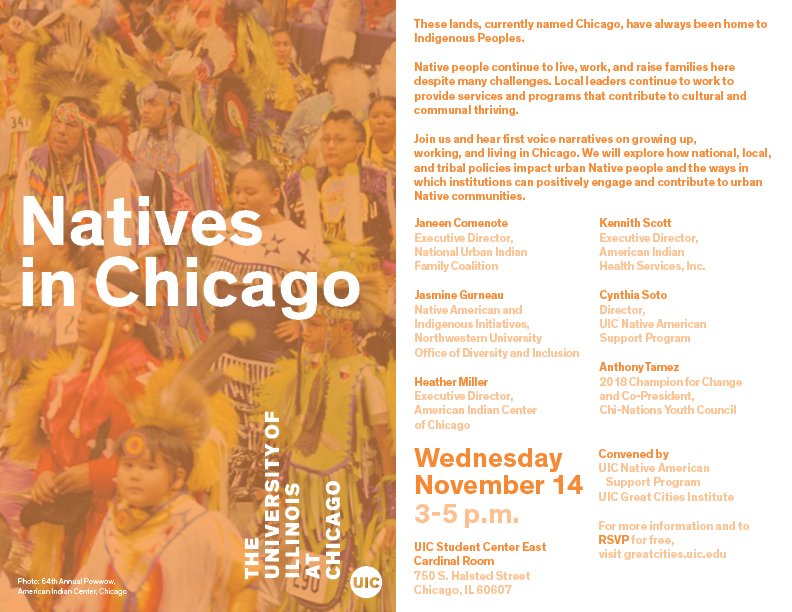 These lands, currently named Chicago, have always been home to Indigenous Peoples.
Native people continue to live, work, and raise families here despite many challenges. Local leaders continue to work to provide services and programs that contribute to cultural and communal thriving.
Join us and hear first voice narratives on growing up, working, and living in Chicago. We will explore how national, local, and tribal policies impact urban Native people and the ways in which institutions can positively engage and contribute to urban Native communities.
This event is convened by the UIC Native American Support Program and Great Cities Institute.
If the above RSVP form is not working, please email gcities@uic.edu to RSVP.
Janeen Comenote lives in Seattle WA and is an enrolled member of the Quinault Indian Nation. Comenote is the founding Executive Director of the National Urban Indian Family Coalition (NUIFC). The NUIFC is a national coalition representing 28 urban Indian centers in 22 cities and more than two million Native Americans living away from their traditional land base. The NUIFC remains one of only a few national organizations dedicated to "Making the Invisible Visible" and providing a platform and voice for this underrepresented population in America.
Janeen is a graduate of Leadership Tomorrow, a regional leadership program, is a 1999 alumni of the prestigious American's for Indian Opportunity Ambassador program and was chosen and highlighted in O (Oprah) magazine for her participation in Women Rule; 80 Women Who Could Change America.  She is a recipient of the Potlatch Fund Fran James Cultural Preservation award and the prestigious Eco Trust Indigenous Leadership award for her work with urban Indians. She has presented urban Indian issues at the White House, United Nations and as a keynote speaker at numerous conferences.
Additionally, she has been a Human Rights Commissioner for the City of Seattle and is currently a board member for Praxis and sits on the External Diversity and Inclusion Council for Charter Communications. She worked for 16 years at the United Indians of All Tribes Foundation in child welfare, juvenile justice, poverty reduction and as a development officer.
Jasmine Gurneau is a Manager for Native American and Indigenous Initiatives in the Office of Institutional Diversity and Inclusion at Northwestern University. Jasmine leads the development and implementation of university-wide initiatives related to the inclusion of Native American and Indigenous students, faculty, staff, and alumni. Her role includes facilitating stakeholder engagement, serving as a thought leader on campus, and building and sustaining partnerships with tribal communities.
Previously, Jasmine served as the Assistant Director- Native American Content Expert for Multicultural Student Affairs and Undergraduate Admission. In this capacity, she led efforts to indigenize student spaces in various ways including programming, advocacy efforts, and representation in student spaces.
From Chicago, Illinois, Jasmine earned a Bachelor of Arts in Sociology from DePaul University and a Master of Arts in Learning Sciences from Northwestern University.
Heather Miller is an enrolled member of the Wyandotte Nation from Oklahoma and has a passion for seeing Native American organizations succeed.  She began her professional career working for Hopa Mountain in Montana where she helped Native Nonprofit organizations develop their capacity.  She then worked in Seattle with a Potlatch Fund, Native American Foundation where she continued to provide capacity building trainings to Native organizations as well as teach non-Native Foundations how to work appropriately with Indian Country.  She has worked to develop programs, lead organizations and direct grants of various sizes.  Her passion for developing capacity led her to start a consulting business where she helped Native nonprofits grow their own abilities to be successful.
She holds a Bachelors of Philosophy from Miami University in Ohio and a Masters of Native American Studies from Montana State University.  Heather is also a graduate of the Leadership, Apprentice, Economic and Development program through First Nations Development Fund and a graduate of the Cascade Executive Program through the University of Washington.  She recently moved to Chicago and is happy to have joined the American Indian Center team.  In her free time Heather loves cooking with her partner Ryan and taking their puppy dog Winnie Cooper on walks as they explore the city.
Kennith Scott, MPA is the Executive Director of the AIHSC.  Under Kennith R. Scott's leadership, the AIHSC has grown and new programs developed.  He has a wealth of experience in working with the target population. He has more than 25 years of experience in government contractual management. He holds a Bachelor of Science degree in Alcoholism Sciences from Governors State University and a Masters in Public Administration from City University of New York. In addition he was a National Urban Fellow—Special Assistant to the President of the Health and Hospital Corporation of New York City.
His experience includes Hospital Deputy Administrator for Choctaw Nation Hospital, a 52-bed general medical and surgical rural hospital in Oklahoma managing 12 physicians and two high volume ambulatory care clinics. He also worked as a Health Systems Administrator for the Ponca Tribe of Nebraska managing the tribe's start-up clinic including developing clinical manuals and procedures and establishing internal committees ensuring professional monitoring of service delivery and standards compliance among other duties.
For nearly thirty years he has worked in the healthcare industry.  He has held several managerial and clinical positions in community health centers and a hospital.  In spite of his hectic schedule, he still makes time to serve on several healthcare advocacy committees in the city. It is Mr. Scott's advocacy within the healthcare field that truly distinguishes him from other providers due to her ability to develop and implement human service health programs that improve the quality of life for many of Chicago's forgotten citizens, to include AI/AN.
Cynthia Soto is enrolled Sicangu Lakota, and Puerto Rican. She was born and raised in Chicago, and grew up in Bucktown (before gentrification.), and attended the local elementary and high schools.  Cynthia is the Director of the Native American Support Program at the University of Illinois at Chicago. She earned her B.A. in Elementary Education and a M.A. in Education-Instructional Leadership from the University of Illinois at Chicago. As a first generation college student and graduate of UIC, she is well acquainted with the challenges facing students and the opportunities available to them on campus, in their communities and on a national level.
Cynthia has worked in community and educational programs and committees supporting culturally based initiatives from early childhood education programs to higher education. As a single mom of a young daughter, it is important for her to give back to the community she loves.  It is her passion to support, enhance, and contribute to building a healthy community for children, youth, and families.
Anthony Tamez challenges misconceptions about urban Native youth. As co-president of Chi-Nations Youth Council in Chicago and a 2018 Champion for Change for the Center for Native American Youth at The Aspen Institute, Anthony leads Native youth in medicine walks to harvest ancestral plants, participates in demonstrations like the Standing Rock movement, helps young people with regalia making and more. Anthony is also passionate about advocating for the elimination of race-based mascots that promote stereotypes, and works against the ongoing erasure of indigenous people in what is now known as "Chicago".