Talking to North Korea: Ending the Nuclear Standoff
July 25, 2019 @ 12:00 pm

-

2:00 pm

Free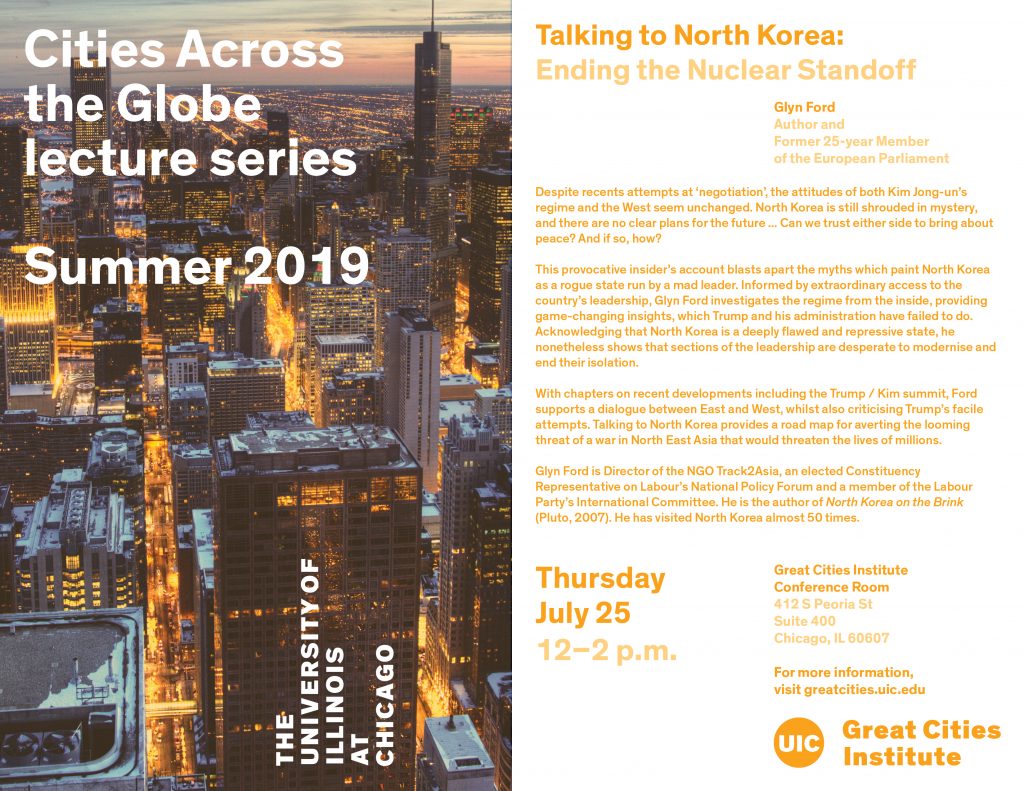 Despite recents attempts at 'negotiation', the attitudes of both Kim Jong-un's regime and the West seem unchanged. North Korea is still shrouded in mystery, and there are no clear plans for the future … Can we trust either side to bring about peace? And if so, how?
This provocative insider's account blasts apart the myths which paint North Korea as a rogue state run by a mad leader. Informed by extraordinary access to the country's leadership, Glyn Ford investigates the regime from the inside, providing game-changing insights, which Trump and his administration have failed to do. Acknowledging that North Korea is a deeply flawed and repressive state, he nonetheless shows that sections of the leadership are desperate to modernise and end their isolation.
With chapters on recent developments including the Trump / Kim summit, Ford supports a dialogue between East and West, whilst also criticising Trump's facile attempts. Talking to North Korea provides a road map for averting the looming threat of a war in North East Asia that would threaten the lives of millions.
Glyn Ford was a Member of the European Parliament for over 25 years, until the June 2009 elections. In the European Parliament he served on both the International Trade and Foreign Affairs Committees, particularly on dossiers related to Asia. During his time as an MEP, Mr Ford was responsible for following the Free Trade Agreement with ASEAN, for the implementation of the Scientific Partnership Agreement with the Republic of Korea, and he was shadow spokesman on the EU-Japan and EU-ROK trade agreements. He was also a member of the Delegation with the Japanese Diet from 1984 to 2009 and the Delegation with the Korean Peninsula from its inception in 2004 to 2009.
After leaving the Parliament, he carried on his work in this field by starting Polint, a Consulting company specialised in EU Public Affairs and in particular Trade Policy, of which he is the Director. In a personal capacity, he is a European Board Member of North East Asian Economic Forum (NEAEF), which is supported by the Japanese Ministry of Foreign Affairs.
Mr Ford is also the Director of Track2Asia, an NGO specialised in track II relations between the EU and Asia. Within this framework, he carries out significant activity on North Korea with Jonathan Powell. He has travelled to the DPRK for over 40 times and he is author of the book Talking to North Korea (Pluto, 2018).
If the above RSVP form is not working, please email gcities@uic.edu to RSVP.