The Underline is a Southern Commercial Avenue Gateway Plaza initiative connecting the South Chicago Community on the north and Vet's Park to the south. Currently, this strip of viaduct on Commercial Avenue from 93rd to 95th Street, is a dark post-industrial landscape which is both intimidating to pedestrians and a blight of the surrounding neighborhoods.
---
The Talking Tree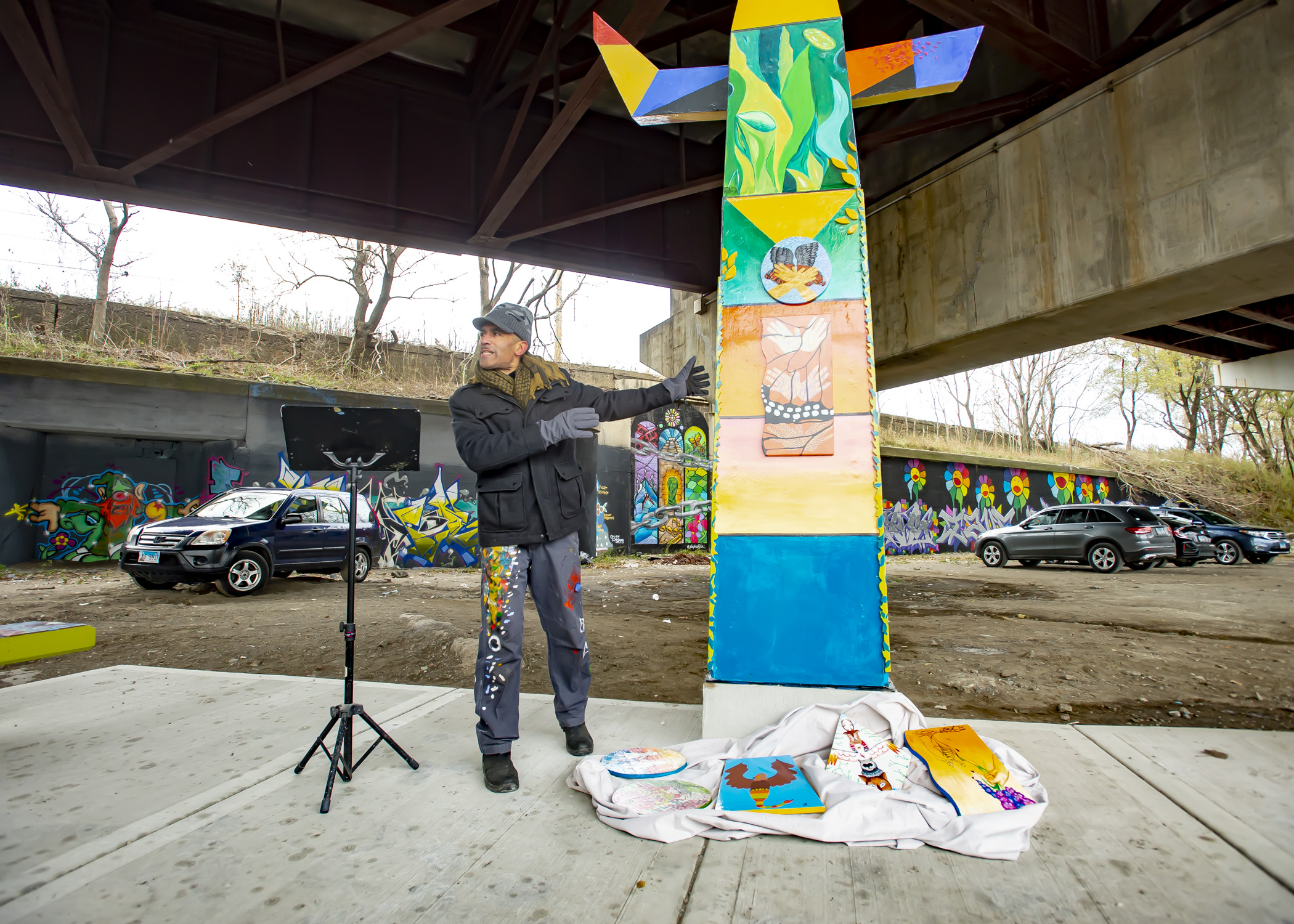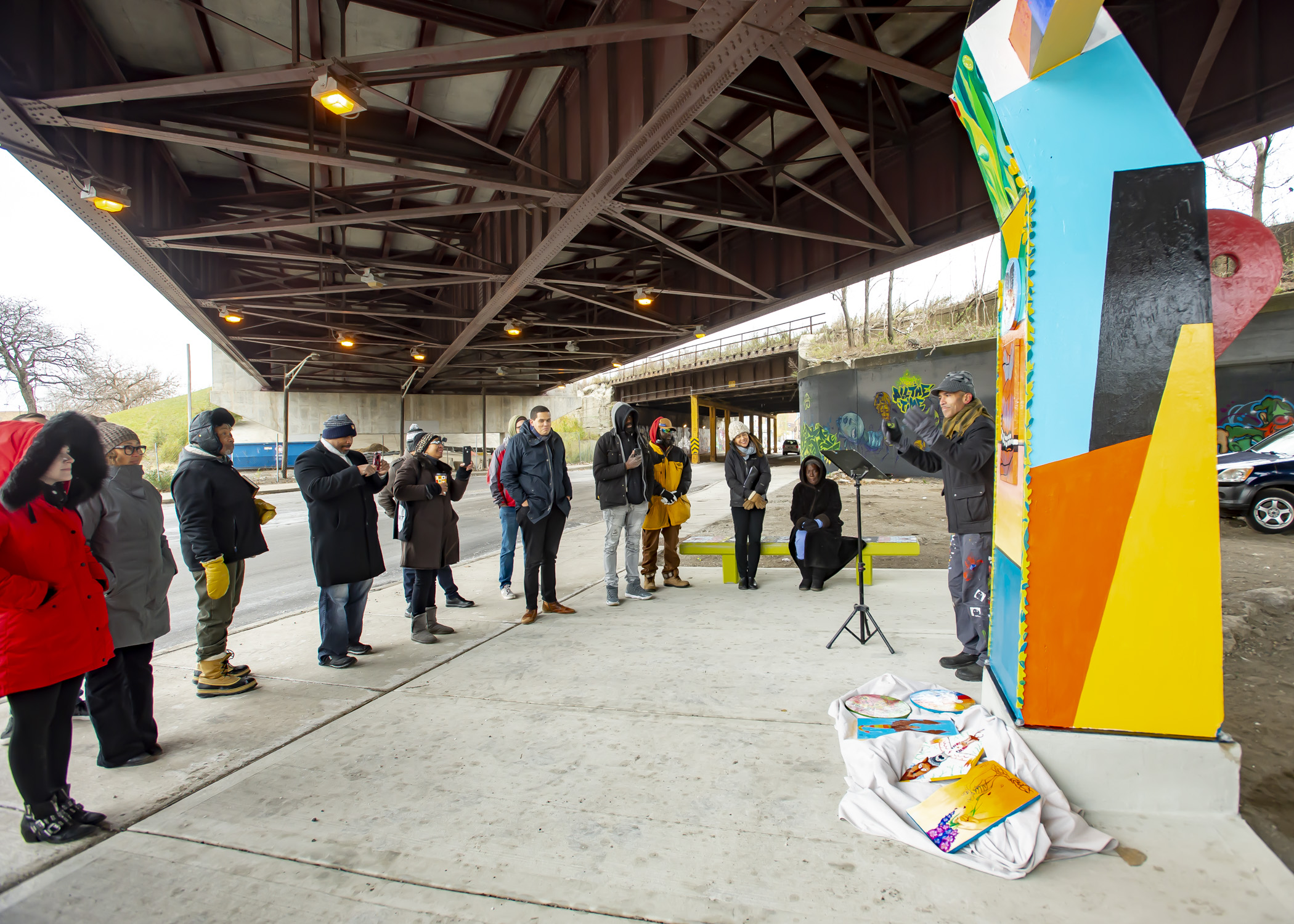 South Worx Art Group founding artist Derric Clemmons has created a design for a sculpture and its settings that includes benches and a landscaped area with a rock garden as the centerpiece for the new plaza. Collectively named "The Talking Tree", the project will launch an initiative to create a safe, attractive, and engaging space underneath the Chicago Skyway. 
The goal is to transform a dark space into a shared inviting space for community members to gather and exchange ideas. Connecting the two sides of the community breaks down barriers, creating a space that will allow for increased programming by multiple community organizations from South Chicago and Vet's Parks.
Local Artist Derric Clemmons along with GCI and the Chicago Public Art group will be conducting community outreach Spring and Summer 2022.
Please contact GCI for more information.
---
History
Spring 2017 architectural students at the University of Illinois at Chicago (UIC) put their planning and design skills together in an effort to bring beauty, life and culture to a space mostly forgotten in the urban landscape.
The students participated in a 10-day ideas competition from January 26 to February 9 that drew more than fifty students paired into thirteen teams. Each team was tasked with designing a new public space under the Chicago Skyway to act as the southern anchor to the South Chicago Commercial Avenue corridor.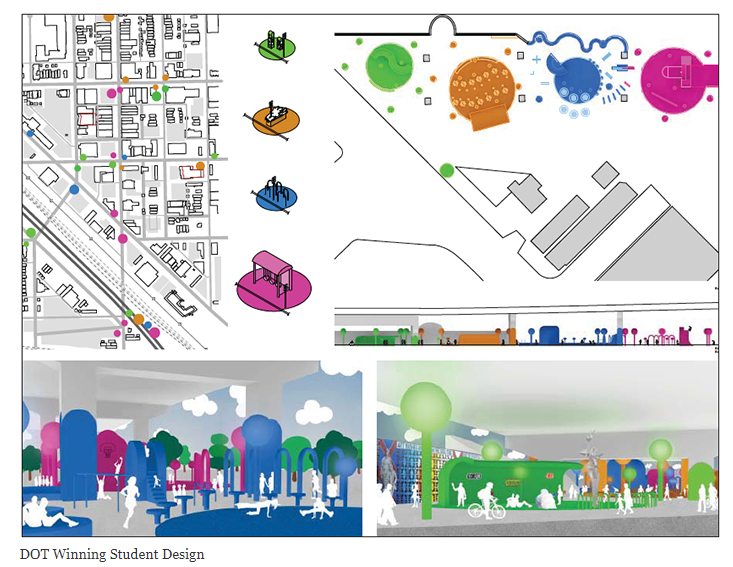 Student design proposals were intended to transform the unused site along Commercial Avenue under the Chicago Skyway into a visible and active public space. This new space is designed to act as the southern anchor to the South Chicago Commercial District, the focus of the "South Chicago's Commercial Avenue Revitalization Plan," and is an instance of residual infrastructure dead space needing to be transformed from a wasteland into a rich public zone. Students were expected to be visionary in scope, but retain a degree of feasibility. Most importantly, the students were challenged to find a way to bring value to vacant space and enhance the life of the community, both on the specific Underline site and across the commercial district.
Students were able to share their ideas with community members, elected officials, and other interested parties at a community gallery opened on February 15, 2017 at the U.S. Bank on 92nd Street and Commercial Avenue. The competition was organized by the UIC School of Architecture in partnership with the South Chicago Chamber of Commerce/SSA #5, and the UIC Great Cities Institute.
Currently the project team is conducting outreach to develop a community stewardship and governance plan for the site. If you would like to participate in this project and/or provide your thoughts and feedback, please contact GCI or fill out the form.
---
Follow us on Instagram (@uicgreatcities) for up-to-date news and photos on Great Cities Institute's Calumet Region projects.