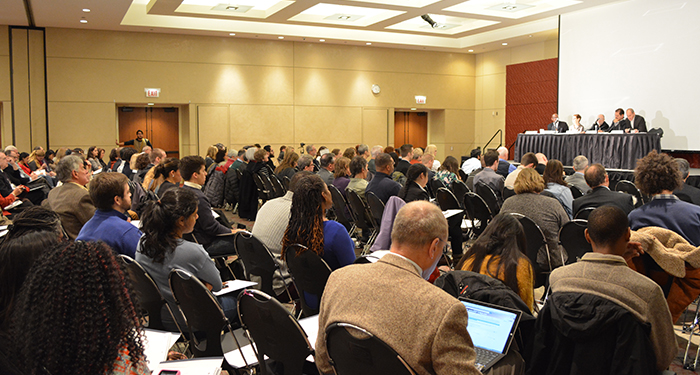 Dear GCI followers,
An event that featured worker cooperatives, another large public forum in our Poverty to Prosperity series and international visitors from Russia, Ecuador and France were highlights of the week of November 10 at Great Cities Institute.
We want to first of all, thank all of you who attended these events. For those of you that did not make it, the discussion on Worker Cooperatives is available for your viewing. As soon as we have the video for City on the Make: Race and Inequality in Chicago, we will post on our website and let you know.
Be on the lookout for Andrew Diamond's book, currently published in French and out in English in the spring. His historical analysis of race and politics in Chicago was illuminating and the responses of the panelists combined with the questions from the audience, made for an invigorating and motivating discussion. We thank Andrew Diamond and our panelists, Commissioner Jesus "Chuy" Garcia, Don Rose, Pauline Lipman, and Victor Dickson. Stay tuned for highlights from this forum along with the video. Check out photos from the event.
This week we have two additional events here at the Institute. First on Tuesday, A Critique of Resilience in Socio-Technical Infrastructure Systems with Thomas Seager, School of Sustainable Engineering and the Built Environment, Arizona State University. On Wednesday, we host a noon forum on Innovation Districts that will include participation from Laura Williams, Strategy Manager for Plan for Economic Growth & Jobs, and Dennis Vicchiarelli, Managing Director, both of World Business Chicago. Josh Drucker, urban planning and policy professor, will respond.
We thank you for your continued support and interest in Great Cities Institute. We continue to build our work in harnessing the power of research to provide solutions to today's urban challenges.
Sincerely,
Teresa Córdova
Director