Hello Friends of Great Cities Institute:
We hope that all of you are well, though we all have many friends who are suffering through the devastation of hurricanes, earthquakes and fires.  We do what we can to support them.  Meanwhile, we continue to plug along at Great Cities.
Last week, we released, with the Institute for Research on Race and Public Policy, a report entitled, The Latino Neighborhoods Report:  Issues and Prospects for Chicago.  The report was produced for Metropolitan Family Services, which has been serving Chicago families for over 160 years. We will write more about this next week but for now, you can find the full report here.
We want to be sure and congratulate some very special friends who have been acknowledged for their very important work.  Wim Wiewel, first director of Great Cities Institute, first dean of the College of Urban Planning and Public Affairs and former President of Portland State University, was awarded the Martin Myerson Award for Distinguished Leadership in Higher Education. The award was presented at the annual conference of the Association of Collegiate Schools of Planning (ACSP), held this past weekend in Denver, Colorado.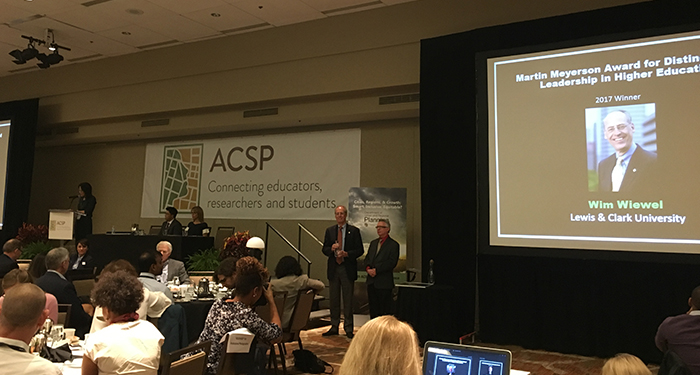 We believe that the record of Wim Wiewel demonstrates a clear commitment throughout his career, and through his accomplishments, to enabling institutions of higher education to innovate, grow, and lead…he represents the best of what planning scholars can contribute to the advancement of higher education.
Congratulations, Wim, for this award AND for your new post as President of Lewis and Clark University in Portland, Oregon.
We are also thrilled for one of the member of our Advisory Committee, Rami Nashashibi, Executive Director, Inner-City Muslim Action Network, for being selected as MacArthur Fellow (formerly referred to as the MacArthur Genius Award). Rami does amazing work and is known for his kind and innovative commitment to building bridges across cultures.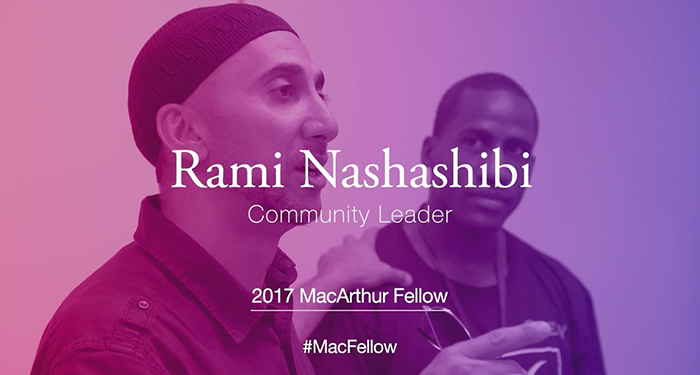 We also want to call attention to a guest blog by Juan Carlos Linares, Executive Director of Latin United Community Housing Association (LUCHA).  We appreciate  his viewpoint as a panelist for GCI's Real Time Chicago lecture on rail to trail projects impacts on Chicago communities. The panel discussion titled "The Impact of Infrastructure on Communities: Three Rail-to-Trail Projects" featured Jamie Simone from the Illinois Department of Transportation (IDOT), Geoff Smith from the DePaul Institute for Housing Studies, Antonio Lopez of Little Village Environmental Justice Project (LVEJO) and Anton Seals of Grow Greater Englewood alongside Juan Carlos. Read his blog here or view video of the event here.
Great Cities staff and affiliates are often invited to share information and insights from the work that we do here at the Institute.  GCI Director, Teresa Córdova, recently gave a keynote address for a conference in Birmingham, England "Global Perspectives on research Co-production with communities." Birmingham, England. In attendance were many folks from England, Scotland, Wales, Ireland, Australia plus others from India, Spain, Finland, Netherlands, Japan, Canada, Mexico, France, Italy, Belgium, and Germany – all doing really interesting, meaningful work. Teresa is also invited to speak at The International City and Civil Society Summit on a panel titled "The City In Civil Society" in Istanbul.
Thea Crum was invited to speak at Recast: The American Institute of Architects (AIA) New Mexico Conference on September 22. The conference included speakers and participants from around the United States including architects, academics, scholars, designers, and activists. The Democratizing the RECAST City panel provided an overview on the key issues facing democracy in the US today, public participation strategies in urban planning and design, the role of place in plan making, the specific methodology of AIA's design assistance team program, and case studies. Thea presented on participatory budgeting methodology and experiences in North America and Chicago. Overall, the conference was a comprehensive look at how architecture and architects can be transformative by shaping the public realm while improving the environments where people live, work, and play.
We also enjoy the opportunities to speak closer to home.  On September 25, Teresa was on a panel at Free Spirit Media on Diversity, Inclusion and the Creative Economy.  Bria Royal (Free Spirit Media) moderated the panel, which included Tracie D. Hall (Joyce Foundation), Qadree Holmes (Quriosity Productions) and Qurissy Lopez (Free Spirit Media).