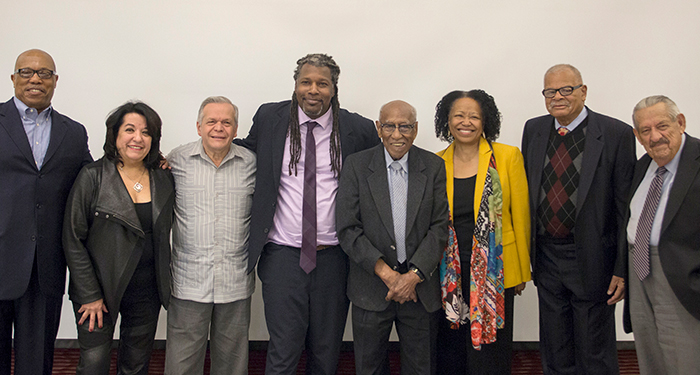 Thank you again, for your attendance at and/or support of our series of events commemorating the February 29, 1968 release of the report of the National Advisory Commission on Civil Disorders, known as the Kerner Report.  The CANTV taping of the March 1, 2018 event, The Kerner Report: 50 Years Later with Senator Fred Harris and panelists Timuel Black, Eugene "Gus" Newport, Gail Christopher, José Lopez, JR Fleming, and Anthony Lowery and moderator, GCI Director, Teresa Córdova, is available here.  You can also see some of the photos from the March 1 panel in the album below.
We appreciate the contributions that these incredible people made to the panel, leading to some deep insights and profound words of wisdom, especially from our elders:  Timuel Black (99), Fred Harris (87), and Gus Newport (83) and of course, José López. One such phrase from Fred Harris and added to by Gail Christopher was "We all do better when we all do better – and we all deserve to do better."  Here is a short video of some of those highlights.
Dr. Harris shared stories of how the Commission came about, the details of the phone call from President Johnson asking him to sit on the commission, and details of the Commission's fact finding missions and decision making process.  Speaking also about the seeming sabotage of the Report's release, he remarked that through one-to-one conversations like that with his father, he could explain the report's contents, but the premature leak to the press undermined how the report was received.  Nonetheless, as Senator Harris described, the Kerner Report was significant both in its findings that social conditions caused by racist policies were the precipitating factors that gave rise to the urban unrest and the detailed recommendations to remedy conditions related to jobs, housing, segregation, education, social welfare, police reform and media depictions.  As both he and the other distinguished panelists stated, the issues that the Kerner report raised continue to plague many of these same neighborhoods today and that strategies to address these issues can be found in both the Kerner report and its update.
On March 1, 2018, the New York Times published an op ed. by Fred Harris and Alan Curtis titled, "The Unmet Promise of Equality."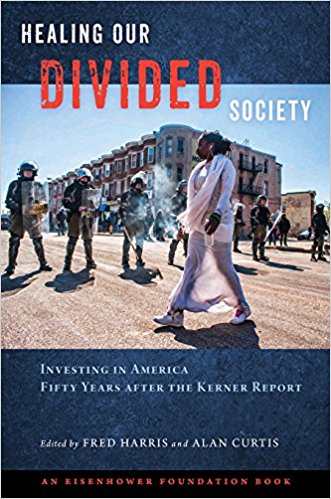 During this week of commemorations, Temple University Press released the book, co-edited by Harris and Eisenhower Foundation CEO, Alan Curtis, titled Healing our Divided Society: Investing in America Fifty Years after the Kerner Report.  Thanks to the UIC bookstore for having the book on hand for folks to purchase.  Here is a description from the Press,
In Healing Our Divided Society, Fred Harris, the last surviving member of the Kerner Commission, along with Eisenhower Foundation CEO Alan Curtis, re-examine fifty years later the work still necessary towards the goals set forth in The Kerner Report. This timely volume unites the interests of minorities and white working- and middle-class Americans to propose a strategy to reduce poverty, inequality, and racial injustice. Reflecting on America's urban climate today, this new report sets forth evidence-based policies concerning employment, education, housing, neighborhood development, and criminal justice based on what has been proven to work-and not work.
At Great Cities Institute, we will continue to highlight in this blog, an array of evidence-based strategies, including those described in the new volume that we know works and continue the conversations about the various strategies to move from Poverty to Prosperity. We need now, the political will.
Additional media on the Kerner Report event:
WGN: "Report finds race relations in US are almost unchanged after 50 years," Lourdes Duarte, published February 27 2018.
WGN Radio:  "The Opening Bell 2/14/2018: The 50th Anniversary of the Kerner Commission Report – Relevant More  Than Ever." Bennet Wakenight, published February 14 2018.
New York Times column by Dr. Fred Harris and Alan Curtis: "The Unmet Promise of Equality," published February 28 2018.
Chicago Sun-Times: "Last surviving member of famed Kerner Commission coming to town," Mary Mitchell,  published February 19 2018.
The Chicago Reporter: "Fifty years later, what the Kerner Report tells us about race in Chicago today." William Scarborough, Kasey Henricks and Amanda E. Lewis. Published February 26 2018.
Chicago Tribune: "50 years after landmark report on riots, Kerner Commission's last survivor still worries about racism." Mary Schmich, published March 4 2018.
Newswise: "Black History Month at UIC," highlights Kerner Report events. No author listed, published 14 February 2018.