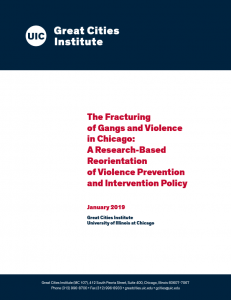 Executive Summary:
On April 27, 2018, the Great Cities Institute at the University of Illinois at Chicago convened the region's top researchers on gangs – along with approximately 50 street-level experts, service providers, journalists who have covered Chicago's epidemic of violence, and others with expertise in the field – to address unanswered questions about gangs and violence in Chicago. This unique working conference consisted of a single day of presentations and conversations on the current state of gangs, framed by an overview of homicide trends in Rust Belt and other major U.S. cities. The conference concluded with proposals to address Chicago's situation of fragmented gangs and persistently high rates of homicide.
The conference was anchored by four scholars, all with a long history of research with Chicago gangs. John Hagedorn, of Great Cities Institute (GCI), was joined by Roberto Aspholm (Southern Illinois University Edwardsville); Andrew Papachristos (Northwestern University); and Lance Williams (Northeastern Illinois University). Former gang members and gang intervention workers from Austin, North and South Lawndale, East Garfield Park, Woodlawn, Englewood, and other communities added their local expertise to the research. A small number of local journalists who are familiar with Chicago's violence problem also attended, as did a handful of representatives from local philanthropic foundations.
The conference formally addressed the following questions:
How have gangs changed in the 21st century and why?
How have the fracturing of gangs and other changes in gang structure affect today's patterns of violence?
How do gang structures and motives for violence differ by neighborhood?
What do these changes mean for public policy and violence intervention?
Authors:
John Hagedorn, Ph.D.
James J. Stukel Fellow, Great Cities Institute
Professor (Retired), Criminology, Law and Justice
University of Illinois at Chicago
huk@uic.edu
Roberto Aspholm, Ph.D.
Assistant Professor, Department of Social Work
Southern Illinois University Edwardsville
rasphol@siue.edu 
Teresa Córdova, Ph.D.
Director, Great Cities Institute
Professor, Urban Planning and Policy
University of Illinois at Chicago
tcordova@uic.edu
Andrew Papachristos, Ph.D.
Faculty Fellow, Institute for Policy Research
Professor, Sociology
Northwestern University
avp@northwestern.edu
Lance Williams, Ph.D.
Professor, Urban Community Studies
Jacob H. Carruthers Center for Urban Community Studies
Northeastern Illinois University
l-williamsb@neiu.edu