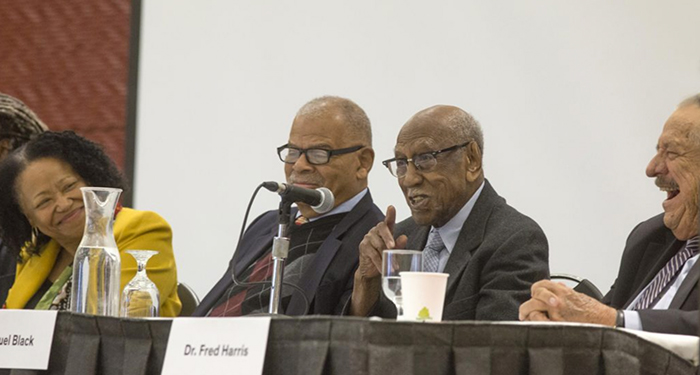 Timuel Black, civil rights activist, educator, and historian joined his ancestors on Wednesday, October 13, 2021.  He will be laid to rest on Wednesday, October 20th in a private service at the First Unitarian Church in Hyde Park. A memorial service will be held on Sunday, December 5th.
Born in 1918 in Birmingham, Alabama, Mr. Black grew up in Chicago's Bronzeville neighborhood. He served in World War II where he witnessed atrocities that shaped his world view and imbedded in him a commitment to human rights.  Upon his return, he completed his master's degree at the University of Chicago. According to a bio that he provided to us during his visit to Great Cities in 2018 when we commemorated the 50th Anniversary of the Release of the Kerner Commission report,
Mr. Black was influential in bringing Dr. Martin Luther King, Jr. to Chicago for Dr. King's first major speech in the city. In the years following, Mr. Black organized the Freedom Trains which carried thousands of Chicago residents to the 1963 March on Washington, and later became an influential political organizer and supporter in Harold Washington's successful mayoral campaign.

Mr. Black spent many years as an educator and administrator in Chicago Public Schools and the City Colleges of Chicago, where he focused his efforts on ending segregation within these institutions. He challenged the Daley political machine in a 1963 City Council campaign, introducing the term "plantation politics" into national discourse. Mr. Black was also influential in Former President Barack Obama's work as a Chicago community organizer, and in 2014 joined the Community Advisory Board of the Barack Obama Presidential Library.

In recent years, Mr. Black has interviewed hundreds of African Americans on Chicago's south side to assemble Bridges of Memory, an oral history of the Great Migration and African American life in Chicago. Mr. Black is also in the process of writing his autobiography, entitled Sacred Ground in reference to the spirituality and community of Chicago's south side.
Timuel Black was a great warrior, and we are grateful that we can share with you an interview that he did with us on March 1, 2018.   During this interview, he spoke about what he called "my dedication to work to bring peace and justice for all people across race, gender and all that."  He was also committed to younger generations to "transfer that history that I lived, that older people lived, to younger people so they will recognize that hopes and dreams prepare this world for the future.  Positive hopes and dreams."  So, hope we must, dream we must, to carry forward the legacy of Mr. Timuel Black and remain committed to the struggle for human dignity and social justice.