POSTPONED: Back on the Bus: Advocating for Faster and More Reliable Buses
March 17, 2020 @ 12:00 pm

-

1:30 pm

Free with RSVP
This event has been postponed. A new date will be announced at a later time.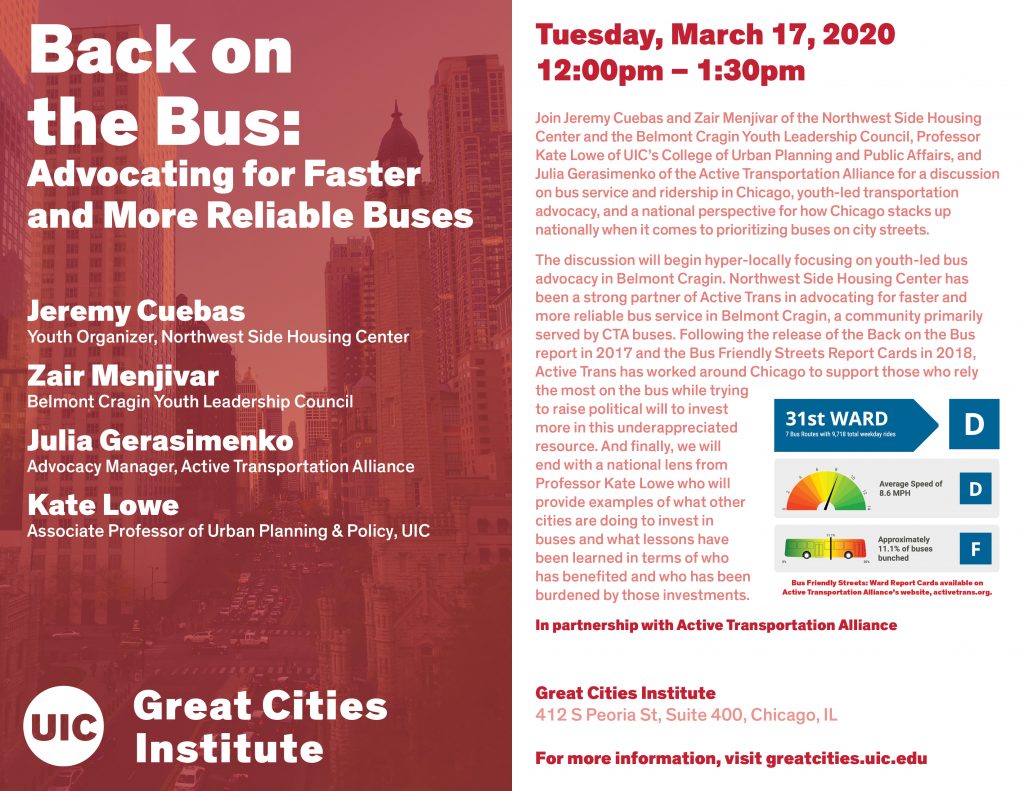 Join Jeremy Cuebas and Zair Menjivar of the Northwest Side Housing Center and the Belmont Cragin Youth Leadership Council, Professor Kate Lowe of UIC's College of Urban Planning and Public Affairs, and Julia Gerasimenko of the Active Transportation Alliance for a discussion on bus service and ridership in Chicago, youth-led transportation advocacy, and a national perspective for how Chicago stacks up nationally when it comes to prioritizing buses on city streets.
The discussion will begin hyper-locally focusing on youth-led bus advocacy in Belmont Cragin. Northwest Side Housing Center has been a strong partner of Active Trans in advocating for faster and more reliable bus service in Belmont Cragin, a community primarily served by CTA buses. Following the release of the Back on the Bus report in 2017 and the Bus Friendly Streets Report Cards in 2018, Active Trans has worked around Chicago to support those who rely the most on the bus while trying to raise political will to invest more in this underappreciated resource. And finally, we will end with a national lens from Professor Kate Lowe who will provide examples of what other cities are doing to invest in buses and what lessons have been learned in terms of who has benefited and who has been burdened by those investments.
In partnership with Active Transportation Alliance.
For disability accommodations, please contact Christiana Kinder, (312) 996-8700, christia@uic.edu.
If the above RSVP form is not working, please email gcities@uic.edu to RSVP.
Jeremy Cuebas
Youth Organizer, Northwest Side Housing Center
Jeremy Cuebas is a youth organizer for the Northwest Side Housing Center. His work focuses on building relationships and empowering the youth specifically in the Belmont Cragin neighborhood. He leads a group of 30 students called the "Belmont Cragin Youth Leadership council"  who meet 5 days out of the week, to organize, strategize, and meet with community stakeholders, elected officials, and residents on issues that they are passionate about. In 2019 Jeremy and the youth council rallied around the idea of improving public transportation in Belmont Cragin. With the support of Active Trans Alliance who provided hard core data for our youth council to analyze, they were able to hold meetings with Senator Durbin, Senator Tammy Duckworth, and their local Alderman's to discuss how to improve public transportation in Belmont Cragin. The youth council was awarded $10,000 dollars from the Bright Promises Foundation and $20,000 dollars from DIVVY to support their efforts in the community.
Zair Menjivar
Belmont Cragin Youth Leadership Council
Zair Menjivar is a member of the Belmont Cragin Youth Leadership Council which he has been for three years now.  The council is a youth empowerment group that strives to make change in the community. Zair has lived in the Belmont Cragin community for eight years and he was really intrigued at the concept of community organizing and being able to advocate for himself, which is why he got involved with the youth council. Zair is a Junior at Lane Tech High School, and aspires to be a master computer programmer in the future.
Julia Gerasimenko
Advocacy Manager, Active Transportation Alliance
Julia Gerasimenko is an advocacy manager at the Active Transportation Alliance. Her work focuses on building relationships around the city of Chicago and she leads Active Trans' bus advocacy. She recently co-authored a report on Fair Fares Chicagoland, recommendations for a more equitable regional transit system. She is also involved in community planning efforts to create more walkable and bikeable communities across Chicago. Prior to joining Active Trans in June 2017, she worked in the education and college access space in Chicago for five years, working with primarily lower income, Latinx students and students of the City Colleges of Chicago. Realizing that transportation was often a barrier to accessing education, she decided to switch fields to get at one of the root causes of inequitable access. She holds a Bachelor of Arts degree in Political Science from Grinnell College. She has never owned a car and does not plan on it.
Kate Lowe
Associate Professor, UIC College of Urban Planning and Public Affairs
Kate Lowe studies transportation at the intersection of policy, funding, and social equity. Her work examines how varied stakeholders and transportation policies interact across different levels of government and how this impacts transportation investments. Much of her work has focused on how federal funding programs interface with local funding, with an emphasis on equity implications. She also studies the transportation perspectives and experiences of low-income populations and has completed work on low-income households in Louisiana. Most recently, she is turning to racial dynamics and local investment choices around streetcars, as well Chicago-based qualitative research on low and moderate income communities of color. She received a Ph.D. in City and Regional Planning from Cornell University, a M.A. in Community Development and Planning from Clark University, and a B.A. in Cultural Anthropology from Bard College.