Commemorating the 30th Anniversary of The First National People of Color Environmental Leadership Summit with Women Co-Founders of the Environmental Justice Movement: A Call to Action
October 26, 2021 @ 3:00 pm

-

5:00 pm

CDT

Free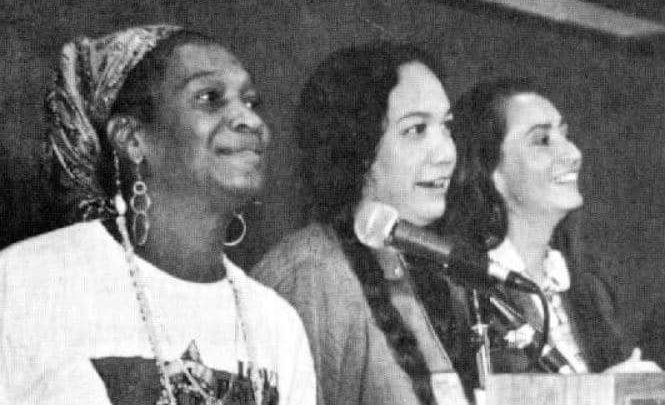 Join us for a Commemoration of 30 years since the First National People of Color Environmental Leadership Summit held in Washington, D.C. October 24-27, 1991, highlighting and honoring the work of the women leaders who ignited the Environmental Justice Movement and were among the attendees at the First People of Color Leadership Summit. We will also honor influential women of the Summit who have passed, including Dana Alston (Co-Convener, First National People of Color Environmental Leadership Summit), Jeanne Gauna, (Co-founder of the SouthWest Organizing Project (SWOP) and the Southwest Environmental Justice Network (SNEEJ),  Hazel Johnson (People for Community Recovery), Wilma Mankiller (Principal Chief, Cherokee Nation), Connie Tucker (Southern Organizing Committee for Economic and Social Justice (SOC) and Jean Sindab (National Council of the Churches of Christ).
Speakers include:

Pam Tau Lee, Co-founder of Asian Pacific Environmental Network (APEN) and the Just Transition Alliance
Vernice Miller-Travis, Co-founder of West Harlem Environmental Action (WE ACT for Environmental Justice) and contributing author to Toxic Wastes and Race in The United States
Gail Small, Founding member, Native Action
Susana Almanza, Co-founder of People Organized in Defense of Earth and Her Resources (PODER)
Dr. Mildred McClain, Co-founder and Executive Director of Harambee House/Citizens for Environmental Justice
Mililani Trask, Founder, Na Koa Ikaika o Ka Lāhui Hawaiʻi
Rose Marie Augustine, Co-founder, Tucsonians for a Better Environment (Invited)

Moderated by:

José Bravo, Executive Director, Just Transition Alliance
Teresa Córdova, Director, Great Cities Institute
More about our Speakers:
Pam Tau Lee, Asian American elder activist and organizer and retired after 20 years from the Center for Occupational and Environmental Health, UC Berkeley, and 10 years as an organizer with the Hotel Employees Restaurant Employees Union, Local 2. She was a participant at the People of Color Environmental Leadership Summit in 1991 and a contributor to the Principles of Environmental Justice. She is a co-founder of the Just Transition Alliance, Asian Pacific Environmental Network, Chinese Progressive Association and a representative to the Grassroots Global Justice, Rising Majority and current chairperson of the International Coalition for Human Rights in the Philippines. Her lifelong movement building efforts are rooted in S.F. Chinatown, when as a child she lived with her grandmother in a densely populated single room occupancy and accompanied her to the garment factory where she worked. These memories of the pain and hardships of the working women set the stage for three decades to uplift conditions where not only where BIPOC live, go to school, and play but where they work.
Pam is internationally known for her community based participatory action research conducted with hotel room cleaners across the country and Canada, and SF Chinatown restaurant workers. The findings from these studies led to landmark policy changes in the workplace. Today due to health issues, her political activism is expressed through art and culture, with a focus on uplifting living in balance with Mother Earth and exposing capitalist rooted market based false solutions to global warming such as carbon offsets and cap and trade. (Link to art)
Upon an invitation of the Indigenous Environmental Network, she traveled to North Dakota to join the collective action to stop the construction of the Dakota Access Pipeline. She organized a delegation of Asians to be in solidarity and the delivery of donated solar panels to the camp. Upon leaving, the delegation was asked to help organize support actions in the Bay and uplift the issue of violence waged on indigenous women and children associated with the construction of pipelines. Returning to the Bay, she joined with groups such as Idle No More SF Bay Indian People Organized for Action and the Chinese Progressive Association and mobilized alongside thousands to shut down the work of the Army Corp of Engineers and bring the issue of divestment and public banks to the attention of city government with positive outcomes. These contributed to the raising of the minimum wage and reduction of workload for hotel room cleaners.
Vernice Miller-Travis is one of the nation's pioneering and most respected thought leaders on environmental justice and the interplay of civil rights and environmental policy. She is currently the Executive Vice-President of Metropolitan Group.
Vernice has vast experience as a civil rights and environmental policy analyst and advocate; consultant for federal and state agencies, foundations, and nonprofits; environmental program manager and foundation program officer. She was a contributing author to the landmark report "Toxic Waste and Race in the United States." This inspired her to go on to help build a social movement that is rooted at the intersection of race, environment, economics, social justice, and public health.
Vernice has brought her expertise to a wide range of boards and advisory bodies such as the U.S. EPA National Environmental Justice Advisory Council and the Environmental Finance Advisory Board, Clean Water Action, Land Loss Prevention Project, Natural Resources Defense Council's Action Fund, Patuxent Riverkeeper, WeACT for Environmental Justice, Chesapeake Bay Trust, Green Leadership Trust and the Smithsonian Anacostia Community Museum.
Vernice grew up in a bi-national family that was based in both the Bahamas and the historic Harlem community of New York City. She draws her strength from spending time with her family in the Bahamas, as well as from the local cuisine, magical beaches and 11 first cousins and their families. She loves to sing, cook for friends and family, paint, travel (before COVID-19) and engage in political debates.
Gail Small is a member of the Northern Cheyenne Tribe and grew up on the Northern Cheyenne Reservation in Lame Deer, Montana. Her Cheyenne name is Vehon-naut, "Head Chief Woman." She comes from the extended families of Woodenlegs, Spotted Elks, Small, Rondeau, and High Back Wolf.
Gail was born and raised among her extended families on Lame Deer Creek, where she and her husband of 32 years built their ranch and continue to live today. She believes that her family and homeland have always nourished her and given her strength. She grew up in the tumultuous time of energy exploitation when the country's largest coal strip-mines and power plants surrounded the Northern Cheyenne. Gail has had a pivotal role in the protection of the Cheyenne homeland.
Head Chief Woman has dedicated her professional career to advancing the Northern Cheyenne Tribe. She has served her Cheyenne people in the following leadership roles: elected representative on the Northern Cheyenne Tribal Council from the Lame Deer District, and the elected Board Chair of Chief Dull Knife College. Twelve years on the Northern Cheyenne Natural Resource Committee; six years on the Northern Cheyenne Coal Bed Methane Committee; ten years on the Northern Cheyenne Water Rights Negotiating Committee; four years on the Northern Cheyenne Law and Justice Commission; and four years on the Northern Cheyenne Constitutional Revision Commission.
In 1990, she founded Native Action, one of the first non-profit organizations established on an Indian reservation. She served as the Executive Director of Native Action for over twenty years successfully achieving numerous national precedents pertaining to tribal sovereignty, Indian voting rights, banking discrimination, Indian education, and environmental protection.
Gail's expansive career includes teaching at public and private schools on the Reservation, in tribal colleges, and at the university level. She has traveled and lectured internationally as a leadership fellow from the WK Kellogg, Rockefeller, and Leopold International Leadership Programs.
Gail graduated from the University of Oregon School of Law and the University of Montana. She credits her greatest education to her life growing up on the Northern Cheyenne Indian Reservation amongst a family of matriarchs and warrior women. She is the mother of four and grandmother of a growing herd of young members of the Tsistsistas and Suhtaio Nation. Head Chief Woman epitomizes contemporary Indigenous leadership and responsibility as a citizen leader.
Susana Almanza is a founding member and Director of PODER (People Organized in Defense of Earth and her Resources), a grassroots environmental, economic, and social justice organization.  Recently, Susana was appointed to President Biden's White House Environmental Justice Advisory Council. Susana has overcome poverty, prejudice, and segregated schools to face down some of the world's most powerful transnational corporations. Susana is an indigenous person of the continent of America and resides in East Austin, Texas. She is a longtime community organizer, and educator, mother and grandmother. Susana participated in the civil rights movement as a Brown Beret taking up issues of police brutality, housing, quality education and equity in school systems and health care as a right not a privilege. Susana Almanza is a proven leader and nationally recognized environmental justice activist. Susana is a model of civic engagement; Almanza has spent her life organizing for the advancement of the underprivileged in the neighborhoods of East Austin and beyond. Susana served on the City of Austin's Parks and Recreation Board and has served on the City's Planning Commission, Environmental Board and the Community Development Commission. Susana continues her struggle for human rights demanding environmental justice and a better quality of life for people of color, all humanity and for future generations.
Dr. Mildred McClain co-founded and currently serves as the Executive Director of the Harambee House/Citizens for Environmental Justice, a community-based organization whose mission is to build the capacity of communities to solve their problems and to engage in positive growth and development. The organization was created in 1990, is located in Savannah, GA and serves communities at the local, state, regional, national, and international levels. Dr. McClain has been a human rights activists and teacher for over 40 years. She has served on numerous committees, commissions, working groups and boards. She created major partnerships with the Department of Energy, Environmental Protection Agency, Agency for Toxic Substances and Disease Registry, Centers for Disease Control, and many community-based organizations, with the goals of addressing public health and environmental justice issues and concerns. Dr. McClain served as an efficient delegate to the World Conference Against Racism and the World Summit on Sustainable Development both held in South Africa. Under Dr. McClain's leadership for the past 20 years the Black Youth Leadership Development Institute has trained over 1500 young people to serve as leaders in their communities. Dr. McClain is a mother and grandmother. The goal of the work is to develop the capacity of our community to create lifestyles that promote health, wellness, and environmental sustainability. Through community gardens, health fairs, testing children for lead poison, and soil testing in contaminated communities.
Mililani Trask is a Native Hawaiian attorney and founding mother of the Indigenous Women's Network. She is widely recognized as an international human rights advocate and served as the indigenous expert to the United Nations Permanent Forum on Indigenous Issues in its inaugural term. She has received numerous awards for her service to Hawaii's indigenous communities and to indigenous peoples globally. She is the leader of a Hawaiian sovereignty movement that seeks the establishment of a separate nation for native Hawaiians and the return of the state-managed lands to which native Hawaiians are legally entitled.
Trask was born into a politically active family. Her grandfather, David Trask Sr., was a territorial senator, and her uncle, David Trask Jr., became a prominent labor leader who organized a powerful union for state government employees. Trask graduated from the Kamehameha Schools, an educational institution set up by Princess Bernice Pauahi Bishop, of Hawaii, for native Hawaiian children. She attended Johnston College, University of Redlands in California, but left school before graduating to work with labor organizer César Chavez's field-workers and the Black Panther Childcare Project. Trask received a bachelor of arts degree in political science from San Jose State University in 1974, and graduated from the University of Santa Clara School of Law in 1978, at the age of 27.
Trask returned to Hawaii and joined the growing native struggle over land control and development. She began community organizing on sovereignty issues, setting up conferences and workshops and doing extensive legal research into native land claims.
In 1987, Trask and others founded the group Ka Lahui Hawai'i (the Hawaiian People). Ka Lahui is a self-proclaimed sovereign Hawaiian nation with over ten thousand members; a democratic constitution with a bill of rights; and four branches of government—including an elected legislature (the Pakaukau), representing 33 districts, and a judiciary system made up of elected judges and an elders council. Voting is restricted to native Hawaiians. Trask has twice been elected kia'aina of the group, the equivalent of governor or prime minister.
Trask hopes the nation will eventually be rooted in the nearly two hundred thousand acres of Hawaiian homelands and the 1.4 million acres of original Hawaiian lands ceded to the state by the federal government. In Ka Lahui Hawai'i, according to Trask, native Hawaiians would have a relationship similar to that existing between the United States and federally recognized Native American tribes and native Alaskans. The tribes, whose members have dual status as citizens of the United States and as "citizens" of the tribe, can impose taxes, make laws, and control their lands.
"All the talk now is about models of sovereignty. A model is just a prototype. It's not real. We're not a model. A model doesn't have 25,000 people."
—Mililani B. Trask
Trask also is one of the founders of the Indigenous Women's Network, a coalition of Native American women advocating for issues including improved housing, health care, human rights, and community-based economic development. From 1998 to 2000 Trask served as Trustee at Large to the Office of Hawaiian Affairs (OHA). In 2000, she resigned her membership in Ka Lahui Hawai'i but has remained active in public affairs. In 2002, Trask began serving a three-year term as the Pacific
José T. Bravo is the Executive Director for the Just Transition Alliance (JTA), where he works directly with Environmental Justice (EJ) Communities and Labor (organized and unorganized) to develop best practices and build meaningful and impactful alliances. José is also the National Campaign Coordinator of the Campaign for Healthier Solutions (CHS), a community driven campaign towards healthier discount stores. Bravo's work in social justice issues is rooted from his upbringing in the Southern California fields alongside both his parents. Bravo has also been doing work on immigrant rights issues since his days as a student organizer in the 80's to the present. His participation in the Environmental Justice (EJ) movement since 1990, has over the years gained him recognition as a national and international leader in the EJ movement and founding member and national and international leader in the Just Transition Movement.
Teresa Córdova is the Director of the Great Cities Institute at the University of Illinois at Chicago where she is also a Professor of Urban Planning and Policy.  She has a several decades history of working alongside the environmental justice movement, including participating in organizing campaigns and strategic policy committees.  In 1991, she attended the first gathering of the Southwest Network for Environmental and Economic Justice (SNEEJ) and subsequently represented the SouthWest Organizing Project (SWOP) on SNEEJ's High Tech Campaign, to tackle the poisoning of women of color in the workplace. Throughout the 1990s, Teresa was active with SWOP and participated in regional and national gatherings of environmental justice activists, including the second People of Color Summit in Washington, D.C.  She was on the Land Use and Land Rights Campaign of the Southwest Network for Environmental and Economic Justice (SNEEJ) and from 1999-2001, she served on the U.S. Department of Energy, Sandia Labs' Community Advisory Board (CAB). From 1995-97, she served on the U.S. Environmental Protection Agency (EPA), National Environmental Justice Advisory Committee (NEJAC), Subcommittee on Hazardous Waste and Facility Siting.