It's been a while since you have heard from us, but we think of you often as we busily work with partners on an array of projects. In the coming weeks, we will catch you up on some of what we have been doing over the last few months.
A Couple of Quick Highlights:
In December, we celebrated the ten-year mark of Teresa Córdova's directorship of Great Cities with a small event with several of our partners. Juan González was our featured speaker followed by a panel discussion on democracy. Interim Chancellor Javier Reyes and special guest Lieutenant Governor Juliana Stratton provided closing remarks. You can view the program on our media link.
Matt Wilson has rejoined Great Cities full time after he completed his Ph.D. at the University of North Carolina.  He is now Associate Director of Economic and Workforce Development.
We also have the exciting addition of Juan González, co-host of Democracy Now and author of Harvest of Empire.  Juan joins us a Senior Fellow.
We will soon provide you more details on the work of both Matt and Juan and invite you to events featuring their work.
In the meantime, we want you to know about a couple of upcoming activities next week.
---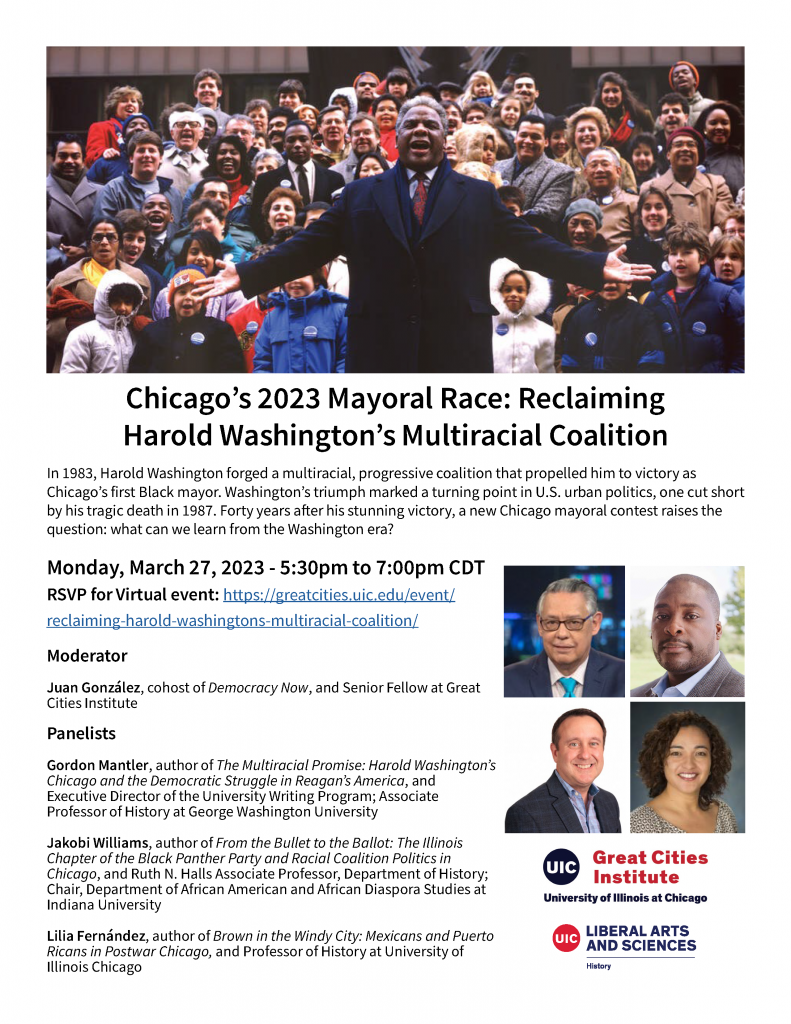 On Monday, March 27th, 2023, 5:30 pm (Central Time), we will host a virtual panel titled, "Chicago's 2023 Mayoral Race: Reclaiming Harold Washington's Multiracial Coalition." UIC's Department of History is a co-host.
Juan González, cohost of Democracy Now, and senior fellow at Great Cities Institute, will be the moderator of the panel, which includes three guests:
Gordon Mantler, author of The Multiracial Promise: Harold Washington's Chicago and the Democratic Struggle in Reagan's America, and Executive Director of the University Writing Program; Associate Professor of History at George Washington University
Jakobi Williams, author of From the Bullet to the Ballot: The Illinois Chapter of the Black Panther Party and Racial Coalition Politics in Chicago, and Ruth N. Halls Associate Professor, Department of History; Chair, Department of African American and African Diaspora Studies at Indiana University
Lilia Fernández, author of Brown in the Windy City: Mexicans and Puerto Ricans in Postwar Chicago, and Professor of History at University of Illinois Chicago
---
On Wednesday, we continue the wonderful partnership with our friends from France to co-host another event in our City/Cité Series. You are welcome to join us at Studio Gang for panel discussion on Chicago and Paris on the Importance of Mobility and Logistics on Wednesday, March 29, from 3:00 p.m. – 5:00 p.m. at Studio Gang, 1520 West Division St.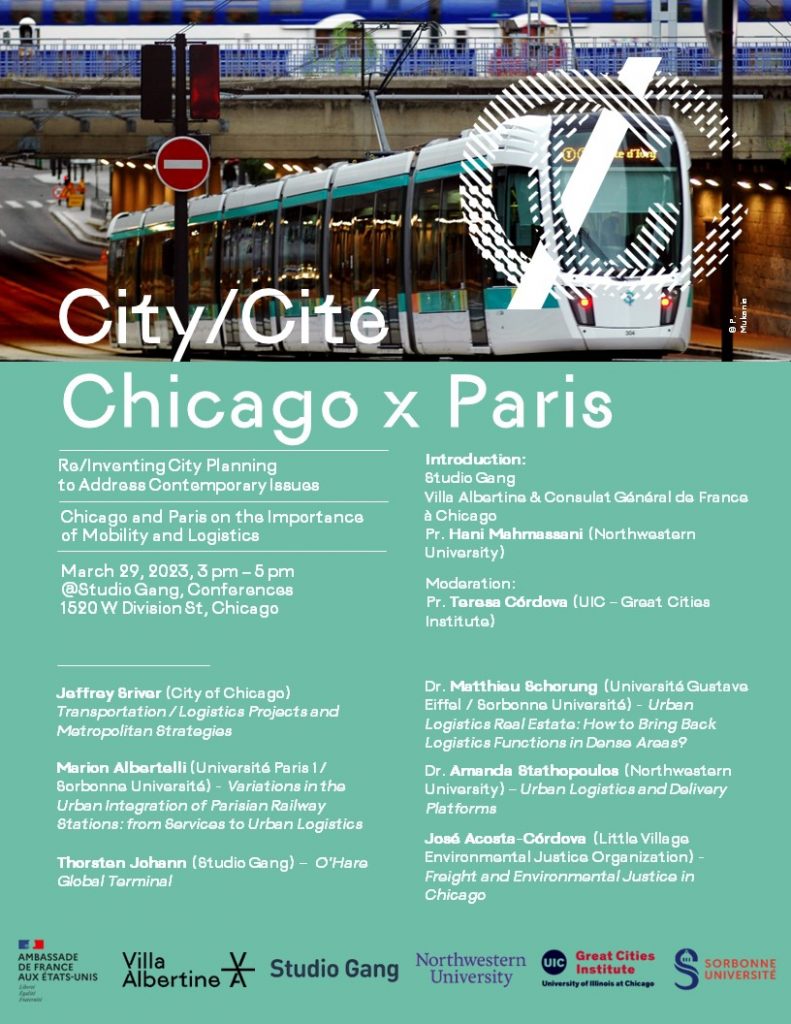 The event will be moderated by Great Cities Institute Director Teresa Córdova and includes the following guests:
Jeffrey Sriver (City of Chicago)
Transportation / Logistics Projects and Metropolitan Strategies
Marion Albertelli (Université Paris 1 / Sorbonne Université)
Variations in the Urban Integration of Parisian Railway Stations: from Services to Urban Logistics
Thorsten Johann (Studio Gang)
O'Hare Global Terminal
Dr. Matthieu Schorung (Université Gustave Eiffel / Sorbonne Université)
Urban Logistics Real Estate: How to Bring Back Logistics Function in Dense Areas?
Dr. Amanda Stathopoulos (Northwestern University)
Urban Logistics and Delivery Platforms
José Acosta-Córdova (Little Village Environmental Justice Organization)
Freight and Environmental Justice in Chicago
For more information and registration, please visit the website here.
---
Hopefully we will see you next week.
We are happy to be back in touch with you.  Be on the lookout for more updates and invitations.