For the 2019 Spring semester, the UIC School of Architecture held a studio for fourth year undergraduate students. The focus of the studio was to present designs for a community plaza in the East Side community of Chicago's Southeast Side. The site consists of four separate sections divided by Indianapolis Avenue (US Route 12, 20, 41), Ewing Avenue, and 100th Street. Currently the site includes the North Trailhead for the Burnham Greenway, the East Side Memorial, and a small pocket park.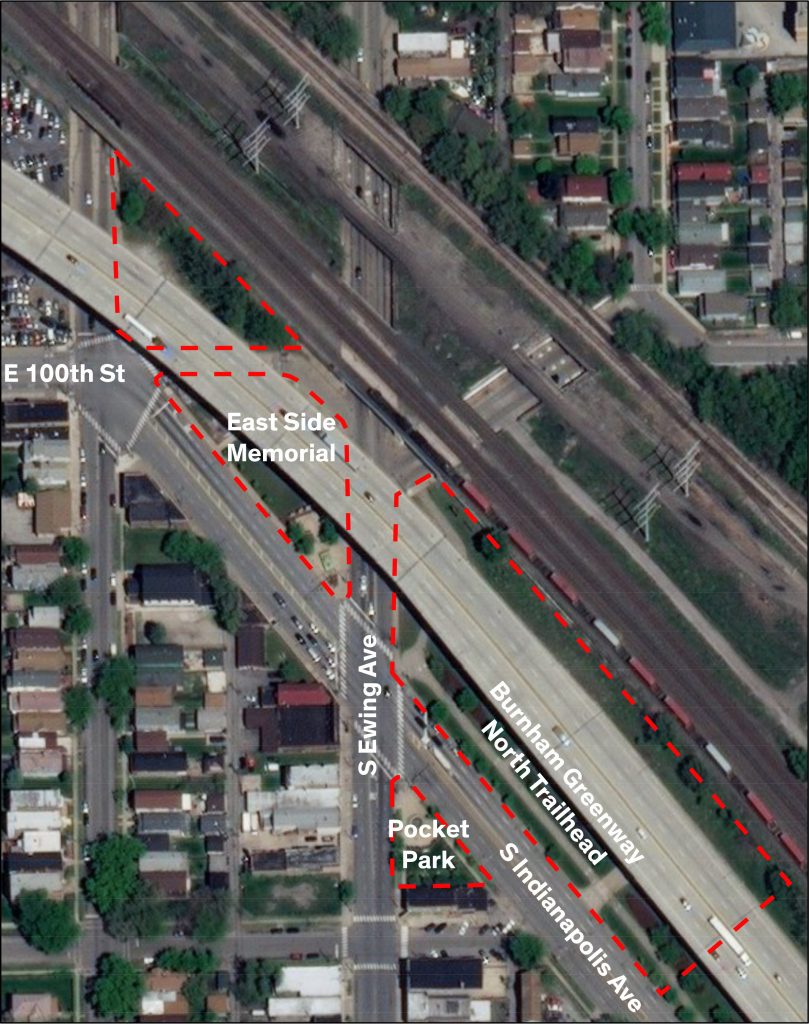 East Side is a neighborhood located between the Calumet River and the Indiana border. Until recently East Side was socially and economically dominated by the Calumet River and the jobs the river supported. A cluster of riverside docks and slips allowed materials to be loaded and unloaded onto adjacent railroad lines, and the river itself was lined with steel mills and other industries. The decline of the Chicago steel industry in the 1970s had profound effects on the community and its population. Decades later, East Side is still attempting to recreate its sense of cohesion.
The East Side Chamber of Commerce has asked for visionary plans to transform an underutilized piece of land under the Chicago Skyway into a town square and veterans' memorial. This new town square / memorial will serve as a welcoming point for visitors and a public space for local residents to enjoy. The studio worked to develop three proposals with an architectural language that communicates East Side's uniqueness to visitors and creates an identity to make residents feel invested in their community.
Great Cities Institute (GCI) served as the community liaison between the School of Architecture and the community partner, the East Side Chamber of Commerce. Together with the Chamber, GCI assisted in providing expertise and community insight to students in the development of their projects. As part of community engagement, UIC students conducted multiple site visits, two community presentations, as well as being informed by a community questionnaire developed by the Chamber.
Great Cities Institute is committed to assisting the East Side Chamber of Commerce and other community stakeholders in carrying the project to implementation.
---
Follow us on Instagram (@uicgreatcities) for up-to-date news and photos on Great Cities Institute's Calumet Region projects.