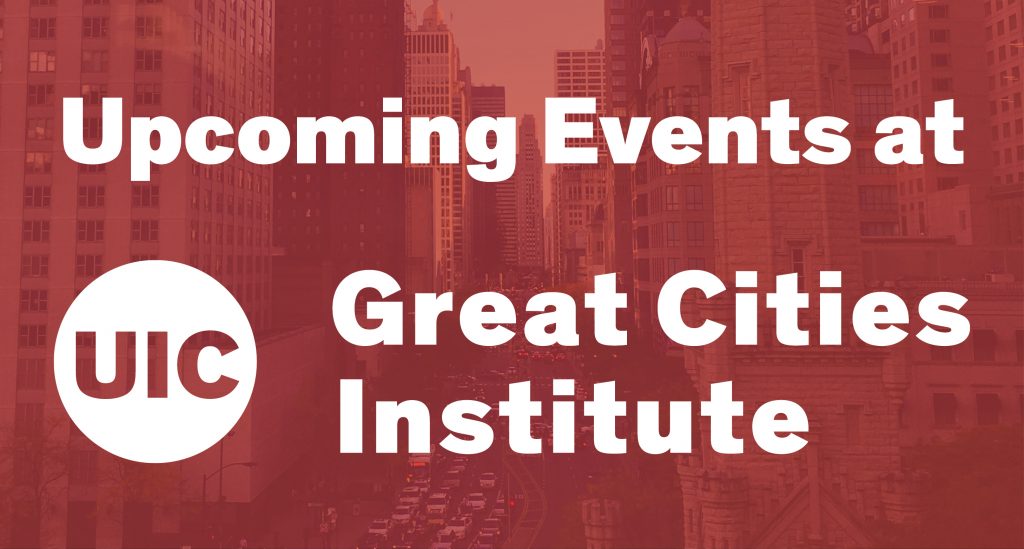 We are very pleased to announce an array of events that we are hosting at the Great Cities Institute and invite you to join us. Our first event, The Danube River and its Cities: A Viewpoint from Budapest, features a Fulbright Scholar with UIC's Urban Planning and Policy Program and is co-sponsored with UPP's Master of City Design Program.  We are also hosting two events on transit that highlight equity issues: Advocating for Better and Faster Buses; and Fair Fares on Transit. We have two programs addressing Global Climate Change highlighting issues that we don't always hear about.  The first is a presentation on Just Transition, by the Executive Director of the Just Transition Alliance, which works in coalition with a range of environmental and climate justice organizations. Later in the semester, GCI and UIC's Center for Global Health, will host an important forum on Climate Justice Meets Global Health, featuring a prestigious array of global health practitioners and researchers who will highlight the catastrophic impacts of climate change on health and migration.
We are also very excited to be hosting two events which celebrate the release of two very important books. The first is by Roberto Aspholm, Views from the Streets:  The Transformation of Gangs and Violence on Chicago's South Side. This is part of GCI's ongoing work on the transformation of Chicago's gang structure.  (Professor Aspholm was a co-author of the GCI report on the Fracturing of Gangs in Chicago.) The second book celebration features Ken Reardon from the University of Massachusetts in Boston.  Professor Reardon will be speaking on his work in East St. Louis and will be introduced by one of his former students who worked on that project, Chicago City Colleges Chancellor Juan Salgado.  This book highlights the important contribution of engaged research and university/community partnerships.
All events are at GCI at 412 S. Peoria Street and RSVPs are appreciated.
The first of our events is next week:
The River Danube, flowing between the Black Forest and the Black Sea, is one of the world's most international rivers. Connecting, as well as separating, human life; it crosses 10 European countries and 4 capital cities (Vienna, Bratislava, Budapest and Belgrade) while serving as the national border along 39% of about an 1,800 mile long journey.
This presentation will begin with an overview of major cities on the Danube, highlighting their distinct contexts and geopolitical backgrounds. Melinda will then turn attention toward the 'twin-city' phenomenon, illustrating disparate urban landscapes developed face to face, on both sides of the Danube belonging to the same or different countries. Finally, she will describe the case of Buda and Pest, the historic twin-cities that unified and became Budapest, the Hungarian capital city in 1873, explaining contemporary urban development issues related to resources and potentials offered by the Danube.
Co-sponsored by the Department of Urban Planning & Policy's Master of City Design (MCD) Program.
Back by popular demand!
José Bravo is the Executive Director for the Just Transition Alliance (JTA), where he works directly with Environmental Justice (EJ) Communities and Labor (organized and unorganized) to develop best practices and build meaningful and impactful alliances. José is also the National Campaign Coordinator of the Campaign for Healthier Solutions (CHS), a community driven campaign towards healthier discount stores.
Bravo's work in social justice issues is rooted from his upbringing in the Southern California fields alongside both his parents. Bravo has also been doing work on immigrant rights issues since his days as a student organizer in the 80's to the present. His participation in the Environmental Justice (EJ) movement since 1990, has over the years gained him recognition as a national and international leader in the EJ movement and founding member and national and international leader in the Just Transition Movement.
Join Jeremy Cuebas and Zair Menjivar of the Northwest Side Housing Center and the Belmont Cragin Youth Leadership Council, Professor Kate Lowe of UIC's College of Urban Planning and Public Affairs, and Julia Gerasimenko of the Active Transportation Alliance for a discussion on bus service and ridership in Chicago, youth-led transportation advocacy, and a national perspective for how Chicago stacks up nationally when it comes to prioritizing buses on city streets.
The discussion will begin hyper-locally focusing on youth-led bus advocacy in Belmont Cragin. Northwest Side Housing Center has been a strong partner of Active Trans in advocating for faster and more reliable bus service in Belmont Cragin, a community primarily served by CTA buses. Following the release of the Back on the Bus report in 2017 and the Bus Friendly Streets Report Cards in 2018, Active Trans has worked around Chicago to support those who rely the most on the bus while trying to raise political will to invest more in this underappreciated resource. And finally, we will end with a national lens from Professor Kate Lowe who will provide examples of what other cities are doing to invest in buses and what lessons have been learned in terms of who has benefited and who has been burdened by those investments.
In partnership with Active Transportation Alliance.
Join us as Roberto R. Aspholm discusses his new book, Views from the Streets: The Transformation of Gangs and Violence on Chicago's South Side. Chicago has long served as a symbol of urban pathology in the public imagination. The city's staggering levels of violence and entrenched gang culture occupy a central place in the national discourse, yet remain poorly understood and are often stereotyped. Views from the Streets explains the dramatic transformation of black street gangs on Chicago's South Side during the early twenty-first century, shedding new light on why gang violence persists and what might be done to address it.
Join Lynda Lopez, advocacy manager at the Active Transportation Alliance, alongside Andrea Reed and Linda Thisted, co-chairs of the Coalition for a Modern Metra Electric for a discussion on Fair Fares.
Last November, Active Trans released the Fair Fares report, offering recommendations for fare equity in the region. Some of the recommendations include fare-capping, discounted fares for low-income residents, and testing the South Cook Fair Transit Pilot. This conversation will feature an overview of the report and a conversation with local leaders working for faster and more affordable transit service on the South Side.
In partnership with Active Transportation Alliance.
Join us as Professor Kenneth Reardon discusses his new book, Building Bridges, which tells the 10-year saga of how an inspired group of women activists from East St. Louis established a long-term partnership with students and faculty from the University of Illinois at Urbana-Champaign (UIUC) to revitalize their community.
It is an uplifting story of a small group of women, inspired by the Civil Rights work of Ella Baker, Fannie Lou Hamer, and Katherine Dunham, who organized a highly effective grassroots movement to insure their neighbors and future generations living wage jobs, quality affordable housing, fresh fruits and vegetables, accessible health care and transformative public education. This book will remind you of the wisdom of Margaret Mead's observation, "Never doubt that a small group of thoughtful, committed citizens can change the world; indeed, it's the only thing that ever has."
Info coming soon!